Nama at Aman New York's menu reflects the palpable tranquillity of Aman's Asian roots in the heart of Midtown Manhattan. Each dish artfully blends local New York ingredients with Japanese delicacies to offer a truly unique gastronomic experience. From exquisite nigiri, sashimi and sweet miso black cod to premium Wagyu sirloin grilled over a tabletop charcoal brazier and served with Moshio mineral salt.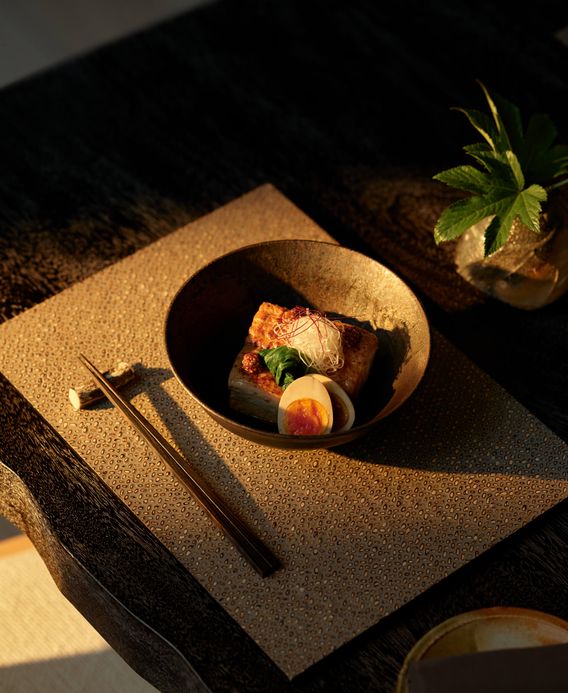 NAMA AT AMAN NEW YORK SAMPLE MENU
前菜とサラダ Appetizer and Salad
Miso Soup
Awase Miso, Seaweed, Tofu, Chives
Black Edamame
Shichimi Salt
Shishito Pepper
Bonito Flakes
Nasu Agebitashi
Eggplant, Umami Dashi Ginger, Chives, Shichimi
Green Market Salad
Cherry Tomato, Avocado, Goma Miso *Tofu supplement
Madai (Red Snapper)
Ora King Salmon
Akami (Lean Tuna)
Hotate (Scallop)
Kinme Dai (Golden Eye Snapper)
Unagi (Eel)
Hamachi (Yellowtail)
Otoro (Fatty Tuna)
Santa Barbara Uni (Sea Urchin)
Hokkaido Uni (Japanese Sea Urchin)
Spicy Tuna Roll
Spicy Sesame Aioli, Asparagus, Chives
Salmon Avocado Roll
Salmon, Avocado
King Crab California Roll
Avocado, Cucumber
Maitake Steak
Teriyaki Sauce or Yuzu Koshu Ponzu
Charcoal Grilled Chicken
Teriyaki Sauce or Yuzu Koshu Ponzu
Charcoal Grilled Salmon
Teriyaki Sauce or Yuzu Koshu Ponzu
Salmon and Ikura Donburi
Over Sushi Rice with Shiso
Unagi Kabayaki Donburi
Charcoal Grilled Eel with Sweet Soy Over Sushi Rice with Sansho
Sashimi Moriawase
Chef's Selection of Five Sashimi
Sushi Moriawase
Chef's Selection of Five Nigiri
A5 Miyazaki Wagyu Beef
Grilled Japanese Striploin, Shishito
All sets are served with miso soup and a selection of three appetizers
Please note that this is a sample menu and dishes are subject to change based on availability of ingredients and seasonality.
Consuming raw or undercooked meats, poultry, seafood,
shellfish, or eggs may increase your risk of foodborne illness. We kindly request that all guests inform their server of any dietary restrictions before they dine.